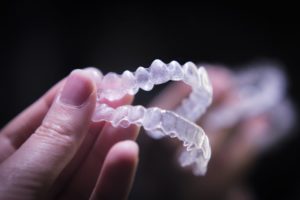 Invisalign in Canfield is an effective alternative to traditional braces for adults and older teens. Invisalign aligners gently correct teeth and jaw misalignment problems, known as malocclusion, over a period of several months. Invisalign therapy is best suited to people whose teeth have matured.
Invisalign vs. Traditional Braces
Invisalign aligners were developed to address the shortcomings of traditional braces. The benefits of Invisalign include:
A low-profile appearance. Invisalign aligners are clear. Most casual observers will never notice that the patient is wearing them. This enables the wearer to relax and feel at ease in public situations.
Lifestyle advantages. Once in place, traditional braces can only be removed by an orthodontist. The patient must use extreme care when brushing and flossing, eating, and interacting in social environments. Invisalign aligners, on the other hand, can be removed by the patient for up to two hours per day. There is no need to adopt a special diet or forgo favorite activities.
Reasonable treatment window. A full course of treatment lasts about 12 months on average. After completion, the patient need only wear a retainer in the evenings to maintain the benefits for the rest of his or her life.
Is Invisalign Right for You?
Invisalign isn't for everyone. People who fall into any of the following categories might be better served by other options:
Those whose teeth are still developing. Invisalign aligners were designed for adults who are unable to wear traditional braces due to career or lifestyle situations.
Those who are suffering from oral health problems other than misalignment. People with missing teeth, gum disease, and other serious dental conditions should probably seek remedial care for these problems before considering Invisalign. Only a dentist can say for sure.
Those with allergies to certain types of plastic. A very small number of people may suffer adverse reactions from the clear material used to make Invisalign aligners. Common symptoms of this problem include a burning sensation in the mouth, swollen lips or tongue, and persistent dry mouth while wearing the appliance.
How Invisalign Works
Invisalign therapy is progressive;  the patient switches to a new set of the aligners about once a week. Caring for the product is easy. Just take the following steps:
Rinse the aligners after each meal to remove food crumbs and trapped liquid.
Avoid strongly colored beverages such as coffee, tea, and red wine while wearing the product.
Clean the aligners every day. It's a good idea to brush the product with antimicrobial soap and a soft-bristled toothbrush. You should also soak them daily, using either a standard denture cleaning solution or the cleaning crystals provided by the product manufacturer.
Keep the aligners in their protective case when not in use. This is especially important for times when you're on the road.
Keep your dentist's contact information handy and contact him or her right away if the product is lost or damaged.
Follow any other steps recommended by your dental professional.
Invisalign aligners are a great way to enjoy improved oral health without the drawbacks of traditional dentures. Talk to an orthodontist soon about this gentle, effective form of treatment.
About the Author
Dr. Marissa Mikolich earned her medical degree from the University of Pennsylvania School of Dentistry. She also has a Master's degree in oral biology from the Ohio State University College of Dentistry. You can reach her office online or by calling (330) 967-4110.