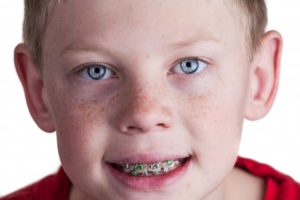 As your child develops, you monitor his or her progress to make sure everything is on pace. One of the areas it's important to keep track of is his or her orthodontic health. There are certain clues that your child needs an orthodontic consultation, but what are they? Thankfully, as you continue reading, your orthodontist in Canfield lists the common signs to be on the lookout for so your child can benefit from early intervention.
What is Early Intervention?
Early intervention orthodontics, also called Phase 1 pediatric orthodontics, is a way to correct any budding problems early so your child won't need more complex forms of orthodontic treatment later on. Children should visit around age seven for a consultation, which provides enough time to make any corrections needed.
Signs That Your Child May Need Early Treatment
By the age of seven, most of your little one's primary teeth will have already erupted, which gives your orthodontist a better understanding of how your child is developing.
The following are indicators that your child may need an intervention:
Narrow palate
Protruding front teeth
Difficulty in chewing or biting
Early or late loss of baby teeth
Crowded, misplaced or blocked out teeth
Upper and lower teeth that do not come together
Your child continues sucking his or her thumb after age 5
Shifting of the jaw when your child opens or closes their mouth
Malalignment of the jaws – jaws that are too far forward or back
How Does Phase 1 Treatment Work?
Depending on your child's specific needs, the orthodontist may use special appliances, braces or surgical methods for more complex issues. These procedures will help encourage the orofacial structure to function properly so your little one can enjoy teeth that look and operate better.
Here are the objectives of the treatment process:
Improve the esthetics and confidence
Correct harmful habits like thumb sucking
Protect protruding teeth from possible damage
Guide jaw growth in a positive and correct manner
Reduce treatment time for any future orthodontic care
Maintain the proper space for the eruption of permanent teeth when the primary digits have been lost too soon
A Time Sensitive Matter
If you notice any of the signs listed above with your child, then it's important to be proactive and schedule an appointment with your local orthodontist. The quicker the issues are addressed, the better it is because it's much easier to correct orthodontic problems while your child is still developing.
So to get the help you need, reach out and schedule a consultation today!
About the Author
First inspired to be an orthodontist as a teenager, Dr. Marissa Mikolich earned her dental degree from the University of Pennsylvania School of Dental Medicine. She then went on to receive her Master of Science degree in oral biology at The Ohio State University College of Dentistry. Dr. Mikolich takes pride in helping patients gain better confidence and oral function at Mikolich Orthodontics, and she can be reached for more information through her website.