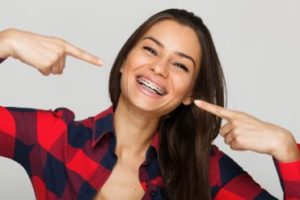 There's no question that having a straight, even smile enhances your life. Improving both your self-confidence and oral health, there are multiple good reasons to straighten your teeth. Unfortunately, some people decide against investing in their smiles with orthodontic treatment because they've heard one of the many myths about braces that are floating around. Before you make a decision about braces in Canfield, learn the truth about these common 7 myths so you can make the right decision for your smile!
"Braces Are Only For Kids and Teens"
People of all ages can benefit from braces. In fact, adults often do even better in treatment because they're more committed to taking care of their teeth and gums.
Also, studies show that adults see improvements in both their personal and professional lives after getting braces, which would explain why more and more adults are choosing orthodontic treatment. In 2014, an estimated 1.4 million adults straightened their teeth!
"The Only Reason To Get Braces Is To Improve Your Appearance"
Braces do much more than simply enhance your appearance. Although the cosmetic benefits are the most popular reason for getting braces, having a healthy bite is also crucial for good oral health.
When your teeth come together the way they should, you're much less likely to develop TMJ (temporomandibular joint) problems. Not to mention that straight teeth are a lot easier to clean than crowded ones, which greatly reduces your chances of getting cavities and gum disease.
"Metal Braces Are Your Only Option"
These days, when you're considering the type and appearance of your braces, you have multiple options. Fixed or removable, clear or opaque – you might be surprised at the different choices that can work for you!
"You Don't Really Need Progress Visits"
When in treatment, your progress visits are essential for making sure your teeth and gums stay healthy and you're getting your results on time. You'll also be glad to know that, in many cases, progress visits are only necessary every 6-8 weeks instead of every 4 weeks.
"You'll Have To Wear Braces For Many Years"
Each case is unique, so the best way to get an idea of how long your treatment will take is to schedule a consultation with an orthodontist in Canfield. Having said that, most people can complete their treatment in 12-24 months (or less).
"All Dentists Who Offer Braces Are Orthodontists"
This is false: Orthodontists go through years of additional training after they've completed dental school so they can be experts in the most effective orthodontic techniques.
It's true that some general dentists offer orthodontic treatment, but they lack expertise because they didn't get an advanced degree in orthodontics. When it comes to making such an important investment in your smile, it's worth it to see a specialist!
"Seeing an Orthodontist Is So Expensive"
The cost of treatment is generally the same whether you see a dentist or an orthodontist. However, orthodontists usually offer free consultations and can also set up a payment plan, which makes treatment a possibility for many people.
It's important to base any big decisions about your oral health on the truth. Now that these myths have been cleared up – you can!
About the Author
Dr. Marissa Mikolich is an orthodontist in Canfield who has heard many myths and misconceptions about braces. She always strives to clear up any confusion her patients may have so they can make an informed decision about straightening their teeth. If you have any further questions about orthodontic treatment, she can be contacted via her website or at (330) 967-4110.