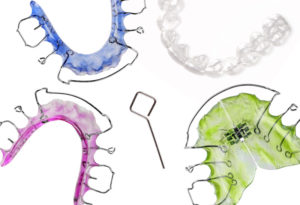 Getting your braces off has to be one of the best feelings there is. Most people can't stop smiling once their pearly whites have been freed from braces — but wouldn't it be sad if those beautiful results were only temporary? If you ignore your orthodontist's recommendation to wear a retainer, they just may be. Keep reading to learn why wearing a retainer after braces in Salem is VIP.
Types of Retainers
Retainers that are prescribed after treatment with braces is complete are typically made of a metal wire affixed to a piece of plastic that fits into the roof of your mouth or lower palate. Upper retainers are often removable, but those used in the lower jaw may be affixed permanently to the back of the teeth. Patients who have undergone treatment with Invisalign may desire a clear retainer, which is also available.
What Retainers Do
Your orthodontist doesn't prescribe a retainer just for the fun of it. After orthodontic treatment, your teeth will be ready to move back into their original position right away — and they need to be gradually freed from their shackles and bonds. That's the point of a retainer. This customized device is a way to wean your teeth off of braces a bit more gradually. You will wear it almost 24-hours right at first, incrementally decreasing use as the months pass by. After a few months, your orthodontist will recommend you use the retainer at night only.
Tips for Retainer Use
Fortunately, wearing a retainer is not as restrictive as wearing your braces may have felt. You should take it out before eating and drinking anything except water. And, it's perfectly fine to remove the retainer if you have a big event or meeting.
You should clean your retainer often to keep it clean and smelling fresh. Brush it gently and rinse under warm water. You may also want to soak it in a denture cleanser every now and then for extra cleansing action.
Because they are removable, retainers are also often accidentally tossed in the trash — especially in the cafeteria at lunchtime. Storing your retainer in its hard case is a good habit to get into to prevent loss or damage.
If your retainer does become damaged or if you go too long without wearing it, it may not fit properly. Get in touch with your orthodontist right away for a solution — letting too much time pass may result in shifting teeth and the need for retreatment with braces.
In conclusion, it's not so much of a bummer that you need to wear a retainer after you get your braces off. It's the only way to keep your teeth right where they should be for a lifetime to come!
Meet the Orthodontist
Dr. Marissa Mikolich is an orthodontist in Salem offering expert care for patients of all ages. From traditional braces to Invisalign and more, Dr. Mikolich does it all with a passion for healthy, beautiful smiles. To learn more about orthodontic treatment or to schedule an appointment, you are invited to contact the office at 330-967-4110.