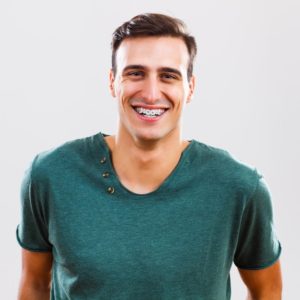 When you think of correcting the flaws in your teeth, you may consider it to be a cosmetic endeavor, where the primary focus is your appearance. The reality, though, is that wearing braces to properly align your ivories does more than just improve the way you look. As you continue reading, your orthodontist in Canfield will explain what else straight teeth have to offer in regard to your total wellness.
How Do Traditional Braces Work?
Traditional braces use constant tension to adjust your teeth to their correct positions. These oral appliances consist of two main parts: brackets and wires. The brackets are first placed on your teeth using an adhesive and then a wire is run through each of them to apply the gradual tension that will adjust your teeth.
Every four to six weeks after having your braces placed, you'll check in with your dentist to have them adjusted to further the process along. The length of time you'll wear them will depend on the condition of your teeth when they are placed, but you can expect a treatment time of at least 24 months.
Braces Offer More Than Just a Nice Smile?
There is no denying the fact that traditional braces address misaligned, gapped, crowded or crooked teeth, leaving you with a beautiful smile and greater self-esteem.
Still, there are other benefits that speak to your health and functionality, including:
You'll be able to speak with more clarity with perfectly aligned teeth.
You can expect to enjoy better digestion of your food. That's because each tooth will be in its proper position, performing its duties correctly. Thus, when you chew, each morsel will be more thoroughly broken down.
You'll be able to prevent a condition called temporomandibular joint (TMJ) disorder. This refers to the place on the side of your face where the bottom part of your jawbone connects with your skull. The TMJ disorder is when the joint is inflamed, causing discomfort. This can sometimes be brought on by misalignment of the teeth.
Can Braces Impact Your Overall Health?
Returning to the aesthetic improvements that braces offer, the greater sense of confidence that you'll experience produces hormones called endorphins. They can be described as "feel-good" hormones because they create a sense of euphoria.
Scientists have discovered that feeling good can translate into other benefits, one being more mental acuteness. The other is that it strengthens your immune system. That means that the better you feel about yourself, the better your body can fight off infections.
The Power of Now!
So now that you know that braces in Canfield offer more than just straight teeth, you have a great opportunity before you. You can enjoy the benefits of both worlds: aesthetic and health benefits in one treatment procedure.
To learn more about the process of getting your braces placed and changing your life, reach out to your local dentist today!
About the Author
After over a decade of putting smiles on the faces of her patients, Dr. Marissa Mikolich still remains passionate about helping every person who walks into her practice leave healthier and happier than when they entered. She earned her dental degree from the University of Pennsylvania School of Dental Medicine and then went on to acquire a Master of Science degree in Oral Biology at The Ohio State University College of Dentistry. Dr. Mikolich can be reached for more information through her website.