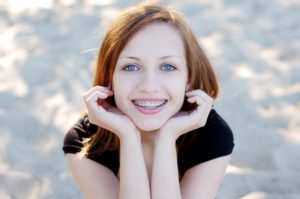 Do you or your child suffer from bite or alignment concerns? To improve the appearance and function of your teeth, your dentist may offer braces; however, you are not sure if you should see an orthodontist in Canfield instead? When it comes to the alignment of your teeth and bite, it is better to choose someone who is specially trained in the area. An orthodontist has undergone additional training to specialize in the alignment of the teeth and improving the bite using corrective braces and devices. As a result, you will receive superior results using proven techniques and methods.

Why Should I See an Orthodontist?
Often, it is believed that the proper alignment of your teeth only offers cosmetic benefits, but this is not true. Their alignment also impacts your oral health. When they are not in their ideal positions, it makes them more difficult to clean, increasing the risk for tooth decay and gum disease. In addition, it makes you more prone to dental emergencies, especially if trauma to the face occurs.
Not only is the alignment of the teeth important, but a proper bite as well. If the bite is incorrect, it can lead to difficulty chewing, open-mouth breathing, and disorders of the temporomandibular joint. An orthodontist can correct these issues to improve your quality of life while creating a beautiful smile.
Who Should See an Orthodontist?
It is recommended that children have their first orthodontic consultation before the age of 7; however, you are never to old to see an orthodontist. Both children and adults can benefit from correctly aligned teeth.
It is often better to have orthodontic issues corrected during childhood because it lessens the need for extensive treatments through early correction. This will not only improve the health and appearance of the teeth but can also help to prevent speech and chewing complications that can hurt their development over the years.
Adults can benefit from orthodontics as well. If you are older, it is better to see an orthodontist because age may have caused you to lose some of your teeth or bone density in the jaw. In addition, you may have other complications, like periodontal disease, which can impact the treatment. An orthodontist understands how these issues can affect your treatment plan. As a result, they can tailor the solutions you need based on your individual requirements to help move the teeth successfully.
Get a Straight Smile Today
No matter if you or your child need metal braces in Canfield, your orthodontist has the solutions you need to improve the health and function of the teeth.
About Dr. Marissa Mikolich
Dr. Marissa Mikolich is a reputable orthodontist in the community who strives to create flawless smiles. She uses the most advanced materials, latest techniques, and tired and tested methods to move the teeth into their ideal positions. Supported by extensive skills and experience, she will help create a smile that will make you proud. If you need an orthodontist, choose the trusted choice. Contact Mikolich Orthodontics today to schedule your consultation.