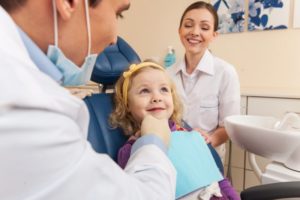 If you've been wanting to straighten your child's teeth, one thing may be holding you back—the cost. Orthodontic treatment is no small commitment, so many assume that the cost associated with straightening your little one's teeth will also be too pricey to handle. However, when you decide to visit your children's orthodontist in Canfield, you can be confident that our financial options are flexible enough to help your family receive the treatments they truly need.
Why Orthodontics are an Investment Worth Making
The cost of completing an orthodontic treatment shouldn't be seen as a bill that you're required to pay every month—something that you huff and puff about. Rather, view this orthodontic treatment as an investment in your child's oral health and future. After all, straighter teeth truly offer benefits that can improve your child's smile for years to come, like:
Straighter teeth are easier to clean than crooked, overlapping teeth. Although you may not notice it now because your child's smile is still in it's early years, but plaque and tartar can become caught between overlapping teeth and cause tooth decay.
Your child has a decreased chance of experiencing a dental emergency when teeth are aligned and in their correct positions, not protruding out the mouth. This could save you thousands of dollars down the road.
Straighter teeth cause less wear and tear on teeth that weakens tooth enamel. Your child is more susceptible to sensitivity or cracked teeth because of misalignments.
Your child will experience a supreme boost of confidence when they finally complete their orthodontic treatment.
Your Dentist Will Work with You to Receive Orthodontic Treatment
As you can see on our new patient information page, we take pride in partnering with a wide variety of insurance companies to help our patients receive the dental care they really want and need for improved oral health. There is a very high chance—although it depends on your insurance benefits plan—that you'll only be required to pay a small portion of out of pocket costs because your insurance will cover most of the treatment.
In the case that you don't have insurance, our office is still willing to work with you to receive orthodontic treatment in Canfield. In fact, we partner with CareCredit for additional financing.
Do you need help filling out your application or have questions about coverage and costs? Feel free to ask us at any time! Our friendly office team would like to work one on one with you to discover your best options.
---
About Our Office
Here at Mikolich Orthodontics, we know that straightening your smile means so much more than having perfectly aligned teeth. Really—it's about saving money, improving oral health, and boosting your self-esteem from the moment you start your treatment. If you would like to explore our current orthodontic options for you or your family members, feel free to give our local office a call. We would be happy to schedule a consultation with our expert dentist.